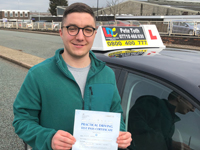 Oliver
Very professional!!!
An excellent experience learning to drive with Pete. The quality of his instruction makes the whole process of learning very enjoyable!!! Thanks Pete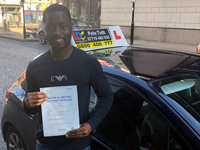 Kingsley
Huge thanks!!!
Very happy with the teaching and techniques. I have learnt since becoming a student of Pete. A huge thank you for all your support and helping me reach my goal. You are a great teacher, enjoyed the lessons and made driving more easy and clear. Recommended for all, from beginners to refreshers. Thanks a lot.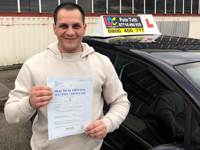 Ede
I cant believe i have passed!!!
Not only did you teach me to drive, but you helped me come through my language barrier. I couldn't have done without you. You are very professional thank you so much Pete.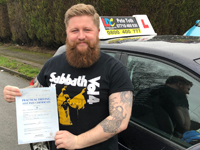 Alex
Pete is the best!!!
The best driving instructor i have ever worked with. Pete has taught me all the basics as well as making me a better and safer driver. Thank you for all your help.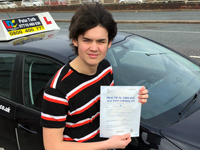 Harry
very enjoyable lessons!!!
Pete is a brilliant teacher!!! He is calm, patient and always makes time for students. I found it very easy to learn with Pete and the car very easy to learn in. It was a pleasure learning and passing with Pete and I am so grateful fir his help. Cheers Pete.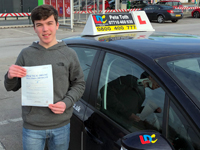 Samuel
Professional lessons!!!
Pete was really good at helping me understand all of the manoeuvres and gave me positive encouragement when i did well, and constructive criticism when i did things wrong. Pete is a really nice guy and can have conversations with him whilst on lesson. The car is new and good for beginner drivers with the clutch and control of the car, it is not to powerful and learners can drive it well. Thanks Pete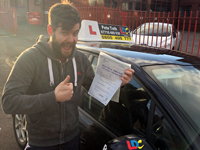 Rob
Top Lad!!!
Pete, its been a pleasure driving with you! You had a very relaxing effect on me. Very clear with your instructions, and very patient with me when i lost my head. I would fully recommend your company. Passed first time!!! wouldn't have been any other outcome!! Thanks Pete.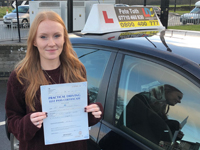 Hannah
Very happy!!!
Pete was a patient and calm teacher who always reassured me and encouraged me to learn new skills. Thanks to him i have passed first time. Thanks Pete.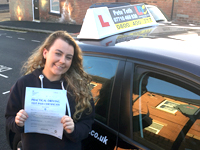 Jessica
1 driving fault!!!
I had another driving instructor before Pete. I haven't been successful with tests but I met Pete and today I have passed my driving test with only 1 driving fault thanks to Pete. I have really enjoyed learning with Pete. I was a very nervous driver before but Pete has made me more relaxed and enjoy driving. Thank you so much.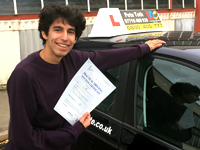 Freddie
Thanks Pete
Pete was my 2nd driving instructor after a couple years off driving. Very patient, and tailor's the lessons to what you need to work on and top banter too.Well happy would recommend!!!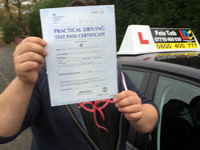 Bartek
1 driving fault!!!
Thank you for help with my driving license. You are a very good and professional teacher. I have learned a lot from you and i will recommend your school to all my friends. All the best.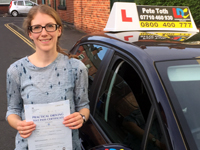 Ruth
I am so pleased!!!
Pete is a very patient and considerate driving instructor, with a good sense of humour . He worked hard to improve my driving skills and help me become a safe driver. Thank you Pete.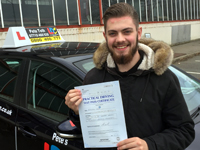 Brandon
Couldn't of ask for a better instructor!!!
Pete was an amazing instructor to me! Able to have general chats while driving around made my lessons really comfortable. The car is really easy to use and an amazing car to practice in. Pete was with me when i first failed, but still supported me, told me the next time will be the one and it was! Couldn't of ask for a better instructor and a friend as well! He prepared me not just for my test but for the real life driving!!! Thank you so much Pete.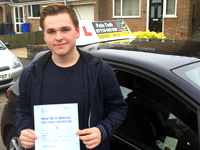 Rhys
Big relief!!!
Pete was an extremely helpful teacher. He made lessons enjoyable and thanks for him i have passed my driving test first time. I loved the car its really easy to drive. Thanks.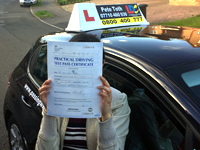 Mev
Thanks a million!!!
Thank you very much Pete. You are a fantastic teacher, very patient and very encouraging. I just cannot recommend you enough to anyone learning to drive. Thanks a million.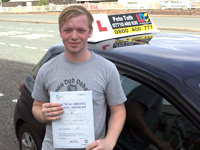 James
Very enjoyable lessons!!!
Pete is a really nice person, and makes lessons fun but is also a really good teacher, because instead of just telling you what your mistakes are he asks you what you thought went well. and what you think you need to work on. He was always on time and helped me a lot. Thanks Pete.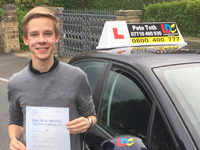 Alex
Thanks Pete its been a pleasure knowing you
Fantastic Driving instructor who really prepares you for the test as well real-life driving. He understands your capability and tailor-makes the learning plan, along with plenty of mock tests to build confidence. I would highly recommend!!!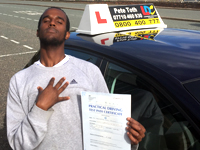 Abdi
Fantastic teaching skills
Fantastic instructor he is always on time and shows different coaching style, which has made me a safer driver. Pete has a great personality and his shown greater knowledge of the game! Sadly a Juve fan:) But definitely a person to contact if you are willing to under go this many challenges!!! Thanks Pete.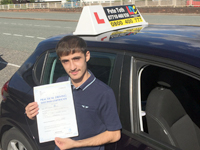 Bilal
Pete is simply the best
Pete is the Best instructor ever. i took the test 5 times and failed with another instructor. Then i met Pete, who taught me to drive and helped me to get rid of my bad habits. Here i am today passed my test thanks for Pete. Without him i wouldn't have passed Thanks you so much.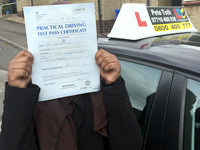 Jamba
Thanks for everything!!!
Pete is a really good driving instructor because,he was very patient with me when i was learning to drive. He is very enthusiastic and fun to learn with. Thanks Pete. You have been a great help.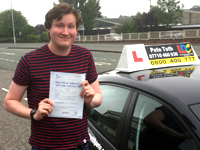 Steve
Your pedal feet will be heat if you learn with Pete:)
Pete has a patient friendly driving instructor, who knows how to keep things simple and easy. I would highly recommend him.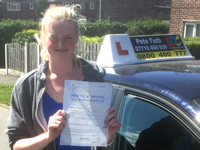 Hannah
Pete is the best!!!
Pete was my 4th instructor and by far the best!!! He helped me to get rid of my bad habits and prepared me for not just the test, but real life driving. I couldn't have done it without him. Thanks Pete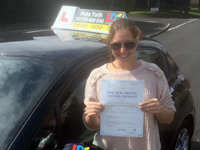 Amy
I am so so happy!!!!!
I was so scared and nervous to drive as i have tried before and failed. Then i met Pete, and from day 1 he made me feel comfortable and confident, he made me believe myself and because of him i passed. Not only he is my friend but also one of the best instructors going. Wouldn't have done it without him. Thank you for having faith in me, not giving up on me and keeping me positive throughout out, all the way to the end. Thank you so much Pete.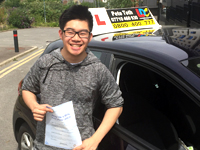 Michael
Thanks for having faith in me!!!
Pete is a fantastic instructor he was always on time. He always has positive attitude, and never lost faith in me. The lessons were really enjoyable and fun. The car is great too, really easy to drive. Thanks everything Pete!!!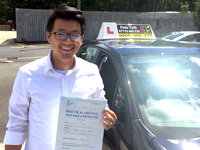 Chin
Thanks to Pete i ll be safe on the road!!!
Pete was my 3rd instructor. Trust me, if you want to switch your driving instructor, choose Pete. Everything is detailed, and loads of questions you can ask him. He will never give up on you and will help you all the time. trust me too I am an engineer!!! Thanks a lot Pete.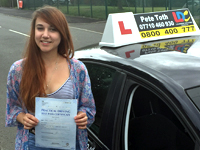 Dora
Thanks for your support!!!
Pete is a fantastic driving instructor. He was very patient and supportive throughout the lessons and ensured that i had fun while learning to drive. In himself he is very friendly individual making sure you are relaxed. I would recommend Pete to anyone!!! Thanks Pete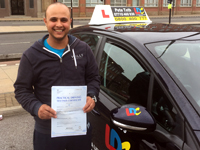 Hamed
Made my life!!!
I am over the moon!!! Pete you were always on time the lessons are well structured and really enjoyable. You were always find the best method to teach me for the right thing. It was a pleasure to work with you. Thanks for your help and support what can i say??? Pete you are the best!!! Thanks everything.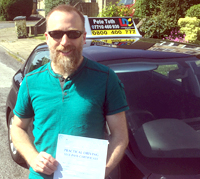 Rob
Excellent service!!!
Pete has been an excellent instructor, friendly, cheerful, patient and reassuring. He was a steady hand guiding me through learning and practicing what i specifically needed to learn. Thanks Pete.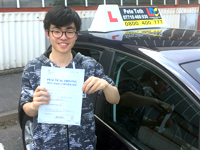 Sho Fang
Thanks for believing me!!!!
Just passed in my first time test, after only 24 hours lessons and 10 weeks. Peter is really experienced and familiar with these tricky roads among Sheffield. He help me focus on my weak point and solve my poor observation and speeding. Really helpful instructor. Thanks Pete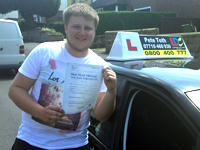 Ales Smith
Big relief!!!
Pete is a fantastic instructor, funny and makes you feel comfortable at the wheel. Very precise with teaching methods, and doesn't get annoyed or shout at you if you do something just talks you through it. Overall i would recommend him to any of my friends and family. Thanks Pete.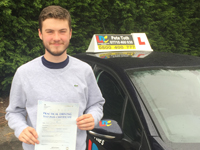 Jake
Really enjoyable lessons!
Simply just brilliant!!! Excellent teaching skills, Pete always found the right way to explain things. I really enjoyed the lessons. Great car, really easy to drive and easy to get used to. Thanks Pete.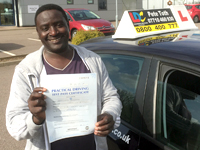 Souleman
I'm so grateful!
Pete you haven't only taught me to drive but to speak English too :) You found a way to get me to understand the complex things which I am so thankful for. And here I am today, passed my test with only 1 driving fault, you have completely changed my life - thank you so much!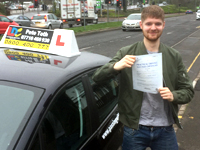 Matthew Cooper
Persistence
So happy to have passed!!! Pete has been an excellent driving instructor. He always provides great constructive feedback and lessons. Have been a bast!!! Thanks Pete.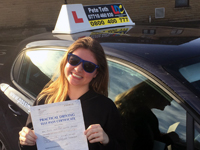 Heather
Well Structured Lessons!!!
Thanks so much Pete, for your incredible patience. Encouragement and for being just awesome! Lovely reliable car, well planned and structured lessons. Passed first time with only 2 minors. What more could i ask for?:)))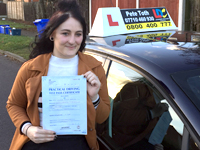 Leanne
Couldn't be happier
Pete is really amazing, he wasn't my first driving instructor but he was the best one i had. His driving technique is great and i got into it straight away on our first lesson. I would highly recommend Pete to all my family and friends - you won't be let down at all.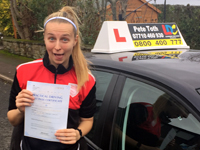 Amy
Loads of fun :))))
Pete has a modern style of teaching, I found him friendly, encouraging and clear & concise. He puts you at ease with a good style of conversation and his accent just makes it that much more interesting. He was also very structured during out intensive course and controlled the lessons not leaving room to take reckless risks. It was fun learning from someone young(er than most instructors), we had a good banter and thank you for the occasional donut you bought me Pete :)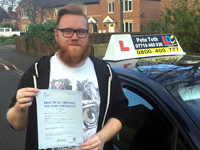 Joe Sanderson
Thanks for believing in me
Pete is not just patient and understanding as an instructor, but friendly and approachable all round, which definitely helped me a lot with the stress of preparing for my test. He always went out of his way to make sure not only that I knew what I was doing, but understanding why exactly I was doing it. He always believed in me, even when I didn't believe in myself.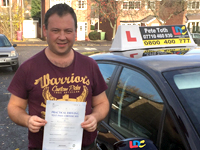 Jim
Semi intensive success!!!
As an older driver, i was a little apprehensive about learning to drive. Just passed first time today with Pete. I learned semi-intensively at 10 hours a week and almost exactly a month later, I was fully qualified. Pete has been the perfect instructor throughout, always patient and constructive and above all dedicated to his students. The car is also great to learn in.Thank you so much Pete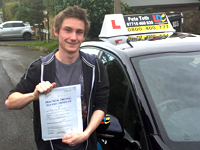 Oliver Keay
No driving faults!!!
Pete is an outstanding instructor getting me through my test without fault. Very understanding, reassuring and always willing to listen to questions and give feedback - puts him miles above others. I would with no doubt recommend Pete to anyone wanting to learn or just improve.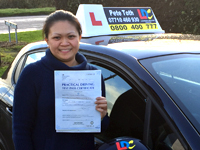 Fatima
Pete you are the best!!!
Thank you Pete I learned a lot from you. You are a very good and patient driving instructor. You were always on time and I can tell you are so passionate about your job. I would fully recommend you to anyone.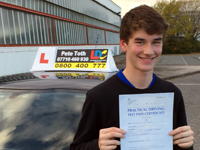 Chris
1 week intensive course success
So pleased i passed first time. Couldn't have done it without Pete! He is such a nice, patient guy with a car that is very comfortable to drive. Will recommend him to everyone!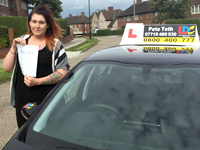 Jade
Top guy
I have only had lessons for the past 2 weeks with you. You explained the manoeuvres clearly and taught me different ways to correct myself. to make it easier. Felt comfortable with you and passed first time. Thank you:)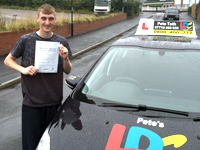 Kieran Simpson
Cheers Pete!!!
Pete is a very patient instructor, passed first time and Pete is the one who made that happen, explains everything clear and the best he can, the car is very easy to drive once you get used to it highly recommended if you wanna pass first time!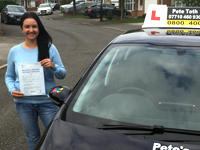 Adrien Gero
I am over the moon!!!
I tried another instructor in the past, but thankfully I met Pete. It was him who didn't only get me ready to pass my test (first time), but prepared me for safe "real life" driving. I found Pete very kind and helpful with a lot of technical knowledge and he was always on time. I cant be grateful enough, many thanks Pete.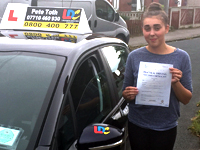 Hayley Smith
I am so Happy thanks Pete!!!
Pete is a very good driving instructor. He makes you feel relaxed when driving. He gives you helpful feedback at every lesson to help you improve more. Massive thanks Pete.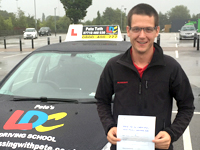 Richard
intensive success!!!
Pete has been absolutely brilliant. very enthusiastic and informative and got me my pass first time. Thank you.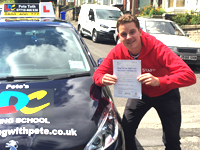 Joe Naghi
Pete should be called patient Pete. He has really helped me grow in confidence and develop my driving skills at a quick pace. He has made my learning experience enjoyable and although i have had frustrating periods, Pete has always supported me through them. I have had a previous instructor who only cared about the money so to have Pete come and only care about my development was refreshing. He is always early or on time and I highly recommend Pete to any new drivers. Thank you mate!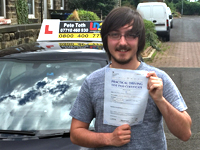 Benjamin Harrison
i ll miss you pete!
Pete is a very down to earth driving instructor and always tries his best to make you feel welcome while driving.If you make a mistake he doesn't shout and talks to you as an equal. His teaching skills are brilliant and well worth the money.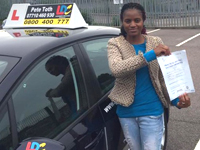 Liso
Thank You so much
Thank you very much Pete, 2 weeks ago i was on zero, no hope, no much skill. But here i am today i have passed my test. he tailor-made my lessons to suit my standard and made my driving experience so enjoyable but whilst equipping me with the right skills for the future. Will recommend your services to everyone i know. Thank you.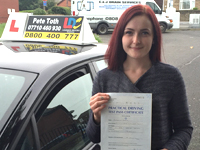 Becky Booth
Fantastic instructor!
Brilliant service, very friendly driving instructor. Its been a pleasure to have him as a teacher. Would highly recommend him to anyone. The car was fantastic very easy to drive. Thanks again Pete.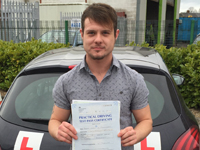 Reece Tomlinson
Great instructor!
Thanks Peter! couldn't have done it without you. Best instructor i know! very impressed that it was first time passed.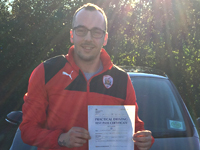 Christopher Lee
Top lad!
I would definitely recommend Pete!!! Absolutely chuffed with his service helped me get rid of the bad habits, explained everything in depth, showed me all the correct techniques/reference points etc in a short space of time & passed on my 1st attempt, Such a top friendly guy, thumbs up pal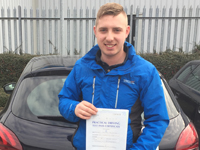 Braiden Howard
First time pass
During my time with Pete i felt comfortable from the get go he was polite and understanding. When mistakes where made, he progressed me to test level at a good pace and made me feel confident to pass as i did. All in all a great tutor and highly recommend. Once again thanks Pete.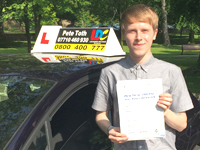 Mathew Crawshaw
Passed with 1 minor fault!
The lessons were always well structured and he made things easy to understand while being patient and supportive when teaching. The car was really good to learn in and was nice to drive.